UiPath's process automation technology will be leveraged into Easyvista's ITSM and knowledge management solutions through integrated packages from ESN Humans4Help.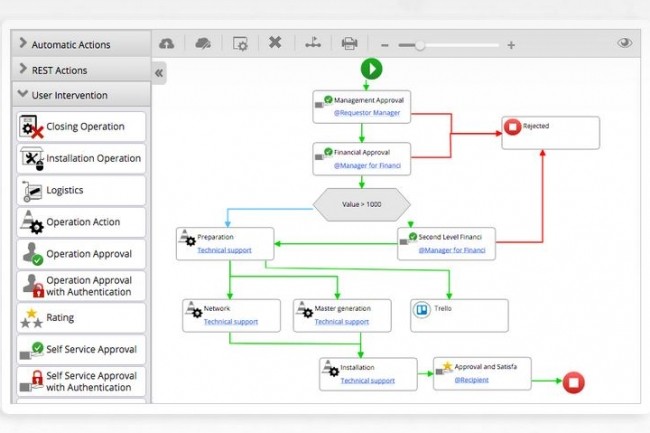 Robotic process automation or RPA is gaining ground in a variety of applications including IT service management. For a publisher such as Easyvista, ITSM tools can even facilitate the robotization of services in the enterprise, not only IT, but also those related to general services, human resources or other fields, as well as A few months ago, Jamal Labed, co-founder and CEO of Easyvista, spoke in an interview . ITSM cloud solutions provider is about to make it a bit more concrete through an agreement signed jointly with UiPath, the European unicorn of the RPA, and with a common partner, the service company Humans4Help. The three companies will together form packaged offerings combining UiPath's process automation robot with the EasyVista, Service Manager for ITSM and Self Help solutions for knowledge management (a software product acquired from Knowesia's acquisition in 2017 ). The integration between the software of both editors will be implemented by Humans4Help. UiPath's RPA solution enables assisted or unassisted process automation with scenarios that can be managed by a human and a software robot.
In the area of ​​IT services, a Forrester study recently showed that 40-50 percent of IT users' requests were about password reset. This type of scenario lends itself well to automation. In another case, that of the users in charge of the after-sales service for the customers who spend between 35 and 40% of their time to look for information being in databases not connected between them. By combining EasyVista Self Help with UiPath technology, these search times can be reduced significantly to improve customer support. Humans4Help's software orchestration will provide end-to-end solutions for both support and business functions in organizations.
Premium connectors for Flow and PowerApps
Among recent additions to the EV Service Manager offer to facilitate orchestration with other applications, Easyvista integrated last June Premium connectors for Flow, PowerApps and Azure Logic Apps from Microsoft. The Flow cloud tool enables you to create and automate workflows between Office 365, Dynamics 365, Power BI applications and services, and the PowerApps platform used to build business applications in low-code mode. The Azure Logic Apps service covers the creation of scalable, automated workflows to integrate applications with cloud and local services.
With its Service Manager and Self Help solutions, Easyvista already equips more than 1,500 companies worldwide in different sectors of activity (financial services, healthcare, higher education, high tech, public sector, retail, industry …).